Show All Steps
// =$breadcrumb; ?>
Reception Extensions - Advanced Options
Reception Extensions - Advanced Options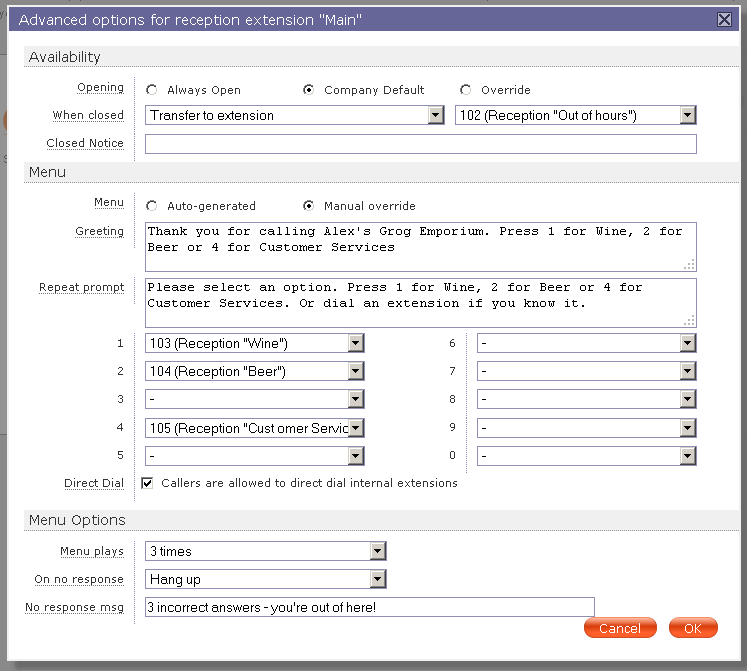 * This screen shot made before "Always Closed" option was introduced
Availability
Opening - When will this extension accept calls?
Always Open
Company Default (as set in the Company tab)
Override (specific to this extension). Note that if you have no override lines, the extension will be permanently closed
Always Closed - this extension is never open. Can be useful to setup a fixed voicemail number or to use as a "shadow number"
When closed - What to do when the extension is not open?
Hang up
Play the Closed Notice and then hang up. Enter the text of the message into the "Closed Notice" and a robot sound file will be generated and played in this scenario (or you can record your own)
Take voicemail message. This will play the closed notice and take a message. Any message that is left is forwrded to the Email address specified below in .MP3 format.
Take dmAnswers message. This will play the closed notice and take a message using our dmAnswers human answering service. If you have more than one, you can select which to use.
Transfer to extension. When this extension is closed, you might have another that should take the calls (or just transfer back to the menu [reception extension]) after playing the closed notice.
Shadow extension. This means transfer seamlessly to another extension - without answering the call and without playing a special message. See #1160 for examples of shadow numbers
Closed Notice - What to say when the extension is closed before taking specified action
Except when the action is simply to Hang up (or Shadow)
Menu
By default, the system will generate a simple menu of just the team extensions (the first 9 if there are more). Using the Advanced options form, you can customise to your own requirements
Menu Options
Whether or not the menu is auto-generated or custom-configured, these options determine how to use it.
Menu plays - How many times to play the menu before considering there has been no response
On no response - What to do if the user hasn't selected any options
Maybe they don't have a DTMF/touch-tone handset
Hang up
Transfer to extension. There maybe a "default" choice (eg. Customer Services) that you'd like to use.