Show All Steps
// =$breadcrumb; ?>

Answering and message taking according to your preferences
Our agents will answer your calls according to your preferences. In order to convey the most professional image and get the best out of dmAnswers14, you should think carefully about your how you want your calls answered and use the preferences to let our agents know.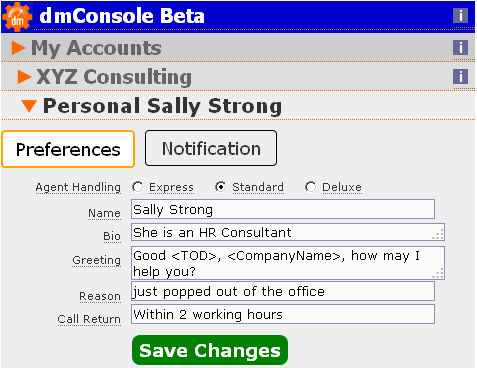 Preferences are easy to change from your mobile or computer using dmConsole and once saved, our agents are updated immediately for when your next call comes in.
What your agent can do for you:
Greeting where the agent reads from the Agent Console how the callers should be Greeted
Informing if the caller asks a question, or the Agent feels that the caller should be informed of something
Messaging where the Agent takes a message
How to set your preferences using dmConsole
You can set up and change your call-handling preferences in your dmConsole (see #0104: dmConsole). Each section in the console allows you to set different things.
Preferences
Agent handling mode - let the agents know how much accurate information you would like taken down in writing during the call (giving you a money-saving express option).
Your name, a short bio, greeting, unavailability reason and call return time
Notification
The email address(es) we should send MessageDesk notifications to, so you know when you have received a call or message.
Additional option to send an SMS to you (small charge applies)
When would I use the preferences feature?
During initial set up of dmAnswers14
You've decided you would like our agents to answer your calls - now it's time to give the agents answering instructions. You start by giving them your name, a short personal bio and how they should greet your caller.

Special values that can be used in the 'greeting' field:
| Value | Example | Notes |
| --- | --- | --- |
| <TOD> | Good <TOD>, how may I help you? | The agent will use "morning", "afternoon" or "evening" depending on the time of day |
| <CompanyName> | Hello, welcome to <CompanyName>, how may I direct your call? | The agent will say your company name saved in the company/name field in the dmConsole |
| <ExtensionName> | Hello, <ExtensionName>'s office, how may I help you? | The agent will say the name saved in the personal/name field in the dmConsole |
If your agent answering instructions need updating at any time
You previously had "standard" handling mode where agents would type the caller details and message (unverified). You're looking to cut additional costs, so decide to try out "Express" mode (1), where the agents can handle calls quicker as they don't have to type anything. You don't mind the extra time it takes to listen to the call as it's easily and quickly accessible from the notification email!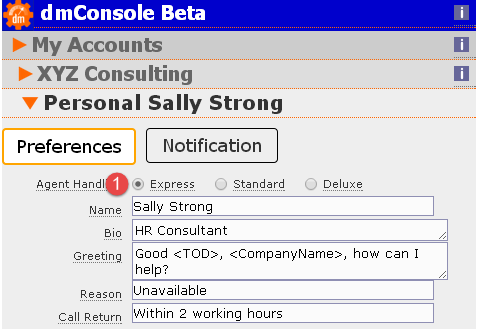 Preferences specification
Here is an explanation of what each preference is for and some tips on how to use each preference to get the most out of the agents.
Preference
Example
What it's for
Tips
Name

Bill Sykes

Used as part of default greeting. Also used in the console as a section heading
Keep it short.
Bio

Mr Bill Sykes, MD also responsible for European sale

Personal background information for agent. Helps them handle the call professionally as though they're part of your business.

Include a hint on gender, so that the agent can say "He's busy" or "She asked if you could..."

If your name is hard to pronounce, include a phonetic spelling in quotes eg. "Featherstonehaugh - "Fanshaw"

Aliases: put in brackets eg. Robert (Bob)

Job title/role can be useful (e.g you may have "Dave in Accounts" and "Dave in Sales")

Note that the "Company" can have a Bio - this can be useful for putting in things like address, website, opening hours, etc.

Greeting

Thanks for calling the SmithCo helpline. Who's calling?

To customise the way in which the call is initially answered. Can be left blank for "default" greeting
Use the special field <TOD> which will translate to "Morning", "Afternoon" and "Evening" (UK local time).
Reason
Visiting clients

A reason as to why you can't take the call yourself

Remember to keep this up to date. If you set it to "at a business lunch", remember to change it back to something more appropriate later in the day!
Call Return
By the end of the day (6pm) or before 10am the next working day

For the agent to give callers an expectation on when calls might be returned

Make it credible and keep your promise.

If you make it too long, it might give a bad impression.

This information won't be given out before the agent takes the caller's name, company and call reason.
FAQ
How much is this call answering going to cost me?
Obviously all calls are different, but we train our agents to be quick and efficient. We have target benchmarks which our agents strive for.
Call time policy (average time target)
In addition to the below table, the following apply:
If the agent has to take the caller's contact number (different from CLI or no CLI) this adds 15 seconds
Caller gives information slowly and has to be asked further questions to get required information this adds 15 seconds
Caller leaves long message or asks further questions about unavailability this adds 15 seconds
Agent Handling Mode
Conditions
Call time policy (average time target)
Express

Agent does not have to type anything in
Customer instead needs to listen to recording attached in notification email
Caller is prompt, answers questions and gives quick concise message

30 seconds
Standard

Agent does not need to verify spellings etc.
Caller is prompt, answers questions and gives quick concise message

45 seconds

Deluxe

Agent types in and verifies spellings to ensure a full and accurate message
Caller is prompt, answers questions and gives quick concise message

60 seconds
My name is hard to pronounce, what should I do to help the agent?
In the greeting: If your name is included in the greeting, only use the phonetic spelling - the agent will be reading this quickly as soon as the call is answered and will read exactly what is in front of them.
In the bio: Include a phonetic spelling in quotes after the actual spelling eg. Featherstonehaugh - pronounced "Fanshaw". This will allow the agent to pronounce it correctly while also being able to give out the right spelling.
Where next?
#1122 dmAnswers14: Setting up dmAnswers14 Message Desk on dmConnect12 for instructions to set up dmAnswers14 MessageDesk
#1123 dmAnswers14: Installing dmConsole on iPhone/iPad set up our dmConsole app for iPhone/iPad users
#1129 dmAnswers14: Installing dmConsole on Android set up our dmConsole app for Android users