Show All Steps
// =$breadcrumb; ?>

Installing dmConsole on iPhone/iPad
Intro: dmConsole is a handy way to control your dmClub accounts when you are around and about. You can install a link on your Apple iPhone or iPad home page.
Objectives: in these instructions you will install dmConsole on your IOS device.
You can setup your dmConsole within 30 seconds, reading the instructions/watching the video takes longer!
Theory
dmConsole is a "Web Application", it looks like a mobile phone/tablet/computer application, but it runs on the Web. It can be installed so that you have convenient real-time information on your accounts and also to control them. It is designed to be as fast as a normal application (startup on a mobile within 7 seconds, and 3 seconds on a computer).
The dmConsole communications with a dmClub "eCom" which acts as a gateway to several systems, and provides a unified view of your accounts.
Related Content
#1129 dmAnswers14: Installing dmConsole on Android If you would like to install on an Android device
Step 1: Log into your clubhouse and request a dmConsole QuickLink
Go to http://my.dmclub.net and log in to your clubhouse
In the "Membership settings" area click on "dmConsole QuickLink" (1)
Note: once in this page, you can scroll to the top to make sure your "contact email address" is one that is accessible on your device. If not, update the email address and "apply changes" before continuing.

Then click to request an email with a quicklink in it (2)
Note: if you have not set a password on your account (only the original login PIN), you will be informed of this and will need to set a password before sending the quicklink email.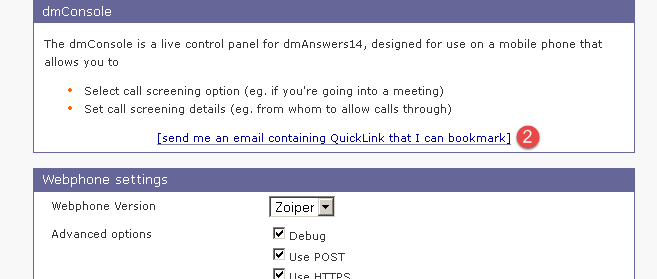 The system will now send you a dmConsole QuickLink. Observe that the system has confirmed that it has sent the link to you (3)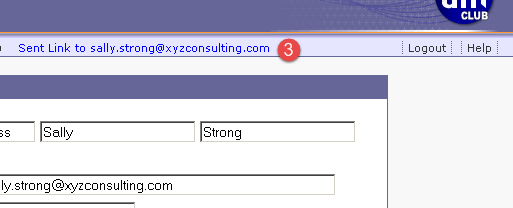 Step 2: Watch the demo video and follow the steps to install
This demonstration shows how to use the QuickLink email to install the dmConsole WebApp on your iPhone/iPad (ios 7.1) home screen.
Steps:
Receive QuickLink Email
Click through to QuickLink generator
Select remember login
Launch dmConsole
Share to home page