Show All Steps
// =$breadcrumb; ?>
Introduction to dmSwitchboard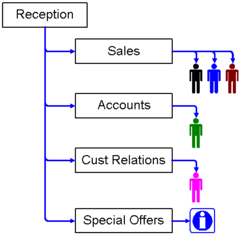 A switchboard is a central hub that can redirect inbound calls to individual numbers or departments.
Using a switchboard, your business can provide a single contact number that forwards to reception, with added redirects to individual extensions.
Components of dmSwitchboard
A switchboard consists of a Script, Sounds and Settings.
Script defines a set of departments all linked from the reception department.
Sounds are the actual sounds played to callers (eg. "Welcome to Jones The Bootmaker").
Settings are parameters controlling peripheral functions such as voicemail and notification.
Getting Started

See the following notes: